Mechanical Vibration Monitoring Solution – ISO-10816 Predictive Maintenance for Water Pumps, Motors, and Compressors – No Subscription required
Remote condition monitoring for industrial machine health

 

Built-In 3-axis accelerometer | IP66 for harsh environments
Easy wire-free installation | adhesive, stud, or magnet mount
Get timely alerts to machine issues to avoid unnecessary machine downtime
Detects machine surface temperature | -20 ~ 85°C
Low power mode providing 2-year battery life | Micro USB option
2-year warranty on device and parts | FCC & CE Certified
POC plan included
Solution Description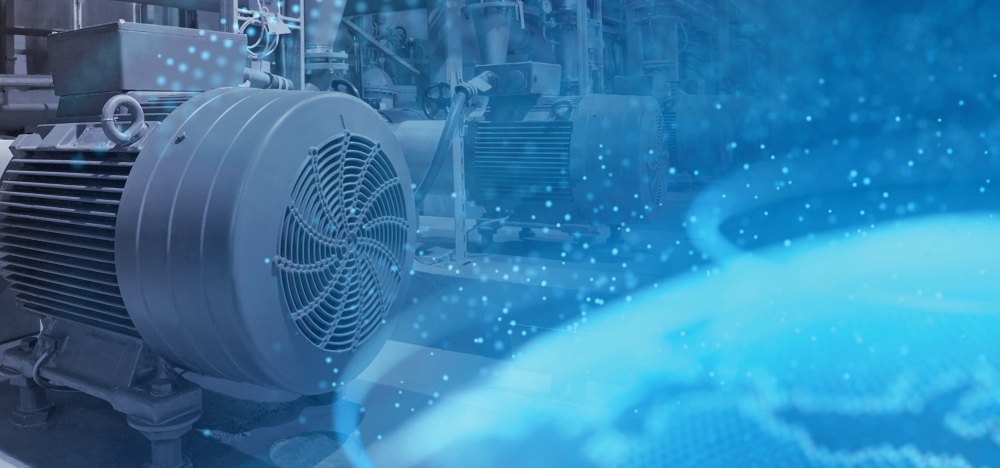 24/7 Machine Health Awareness
Monitoring vibration and implementing preventive maintenance is crucial for equipment operation and maintenance.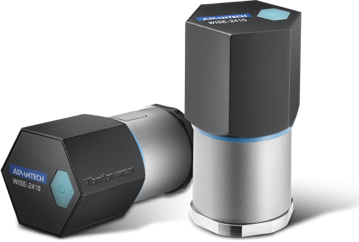 Your Own Motor Inspector
Replaces traditional manpower inspections enabling manufacturers to achieve remote detection and 24-hour monitoring for different machine types.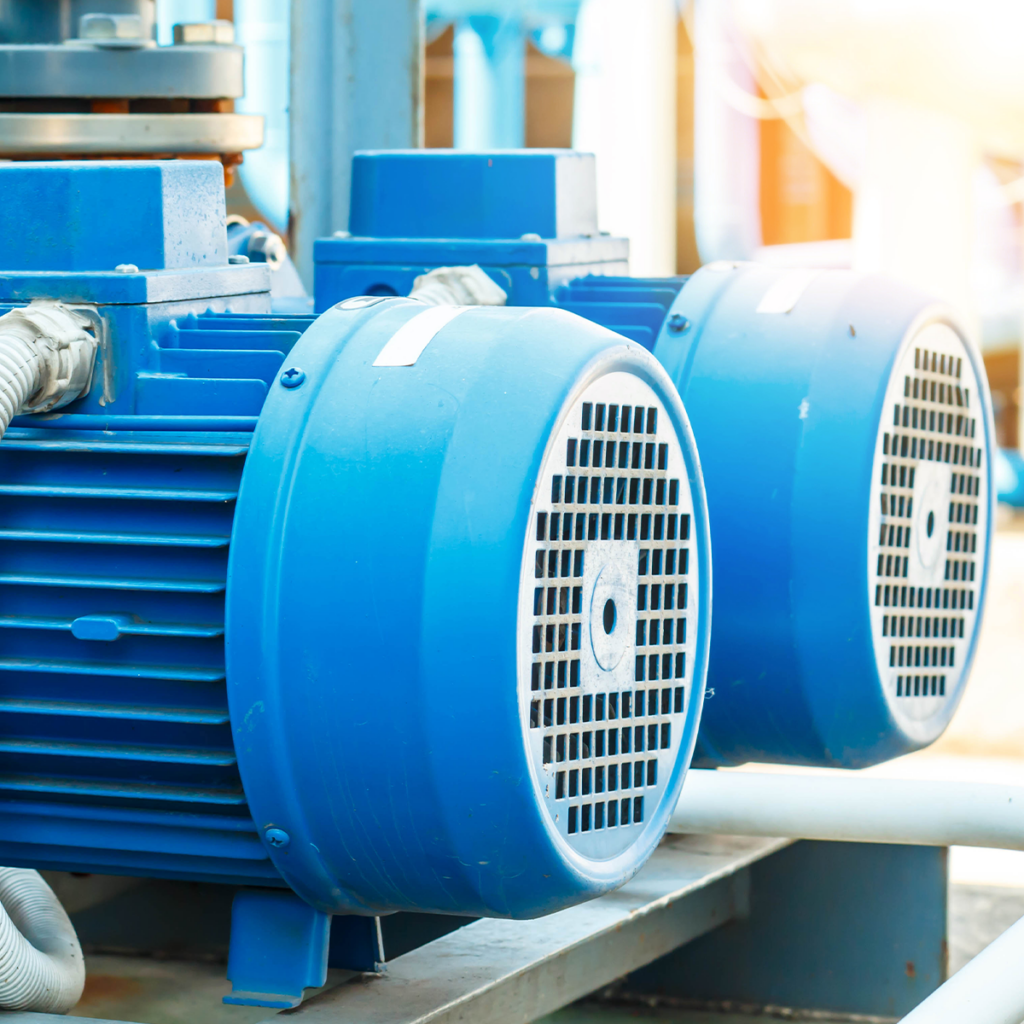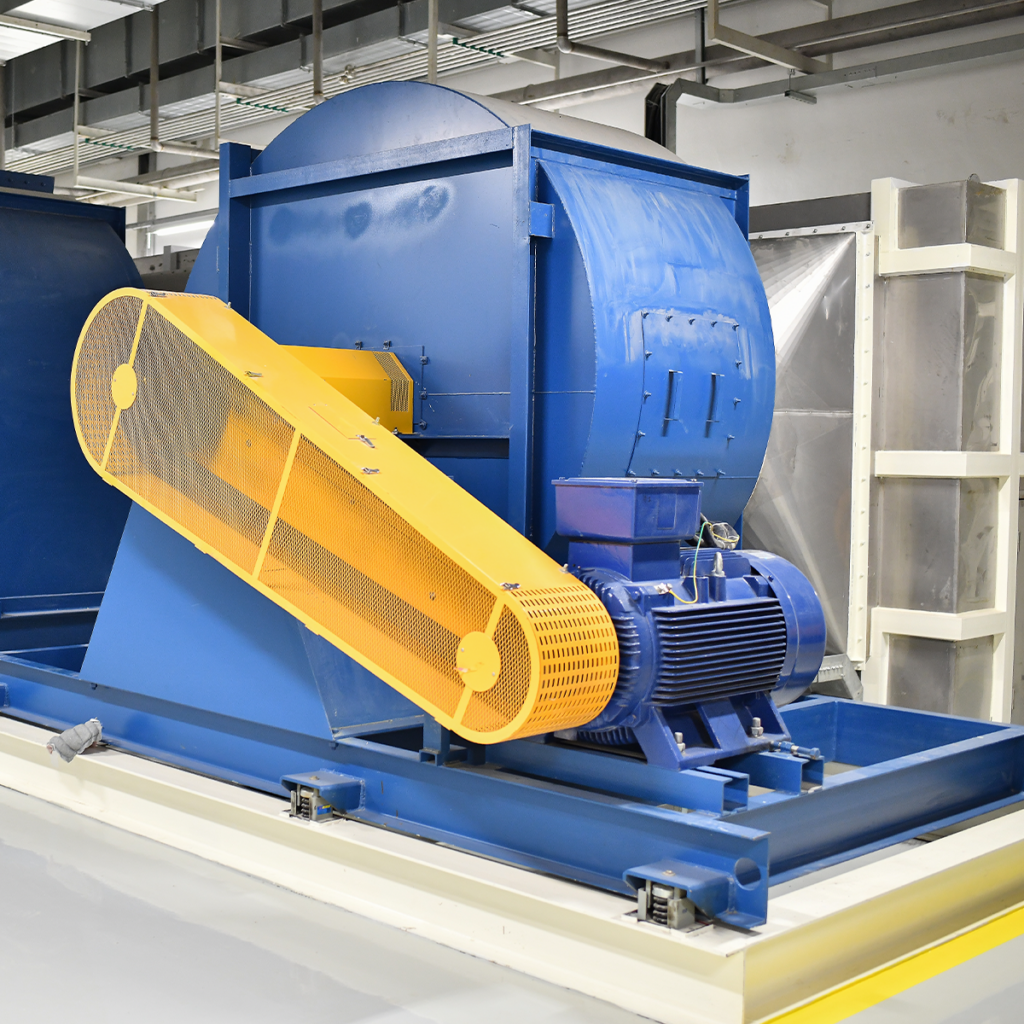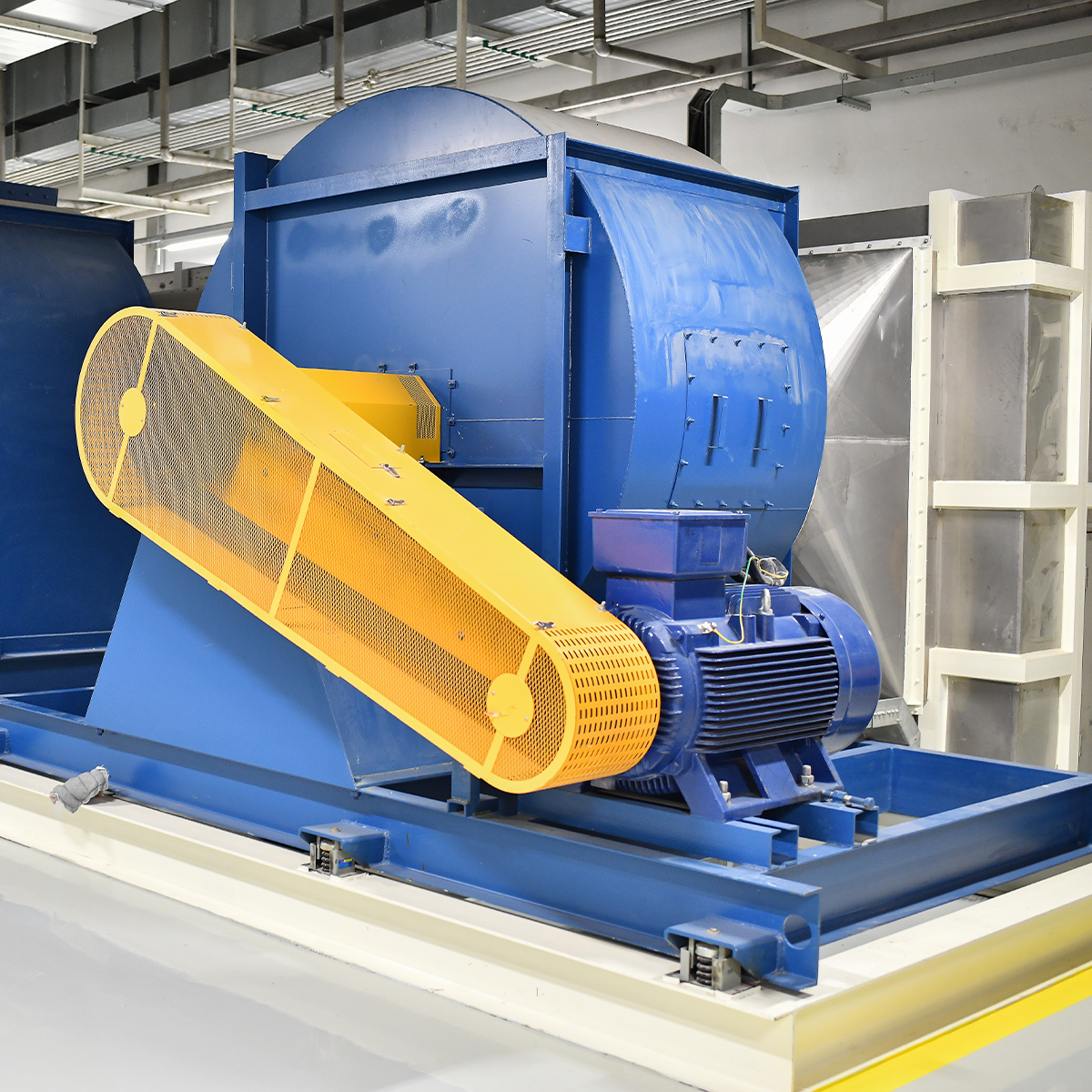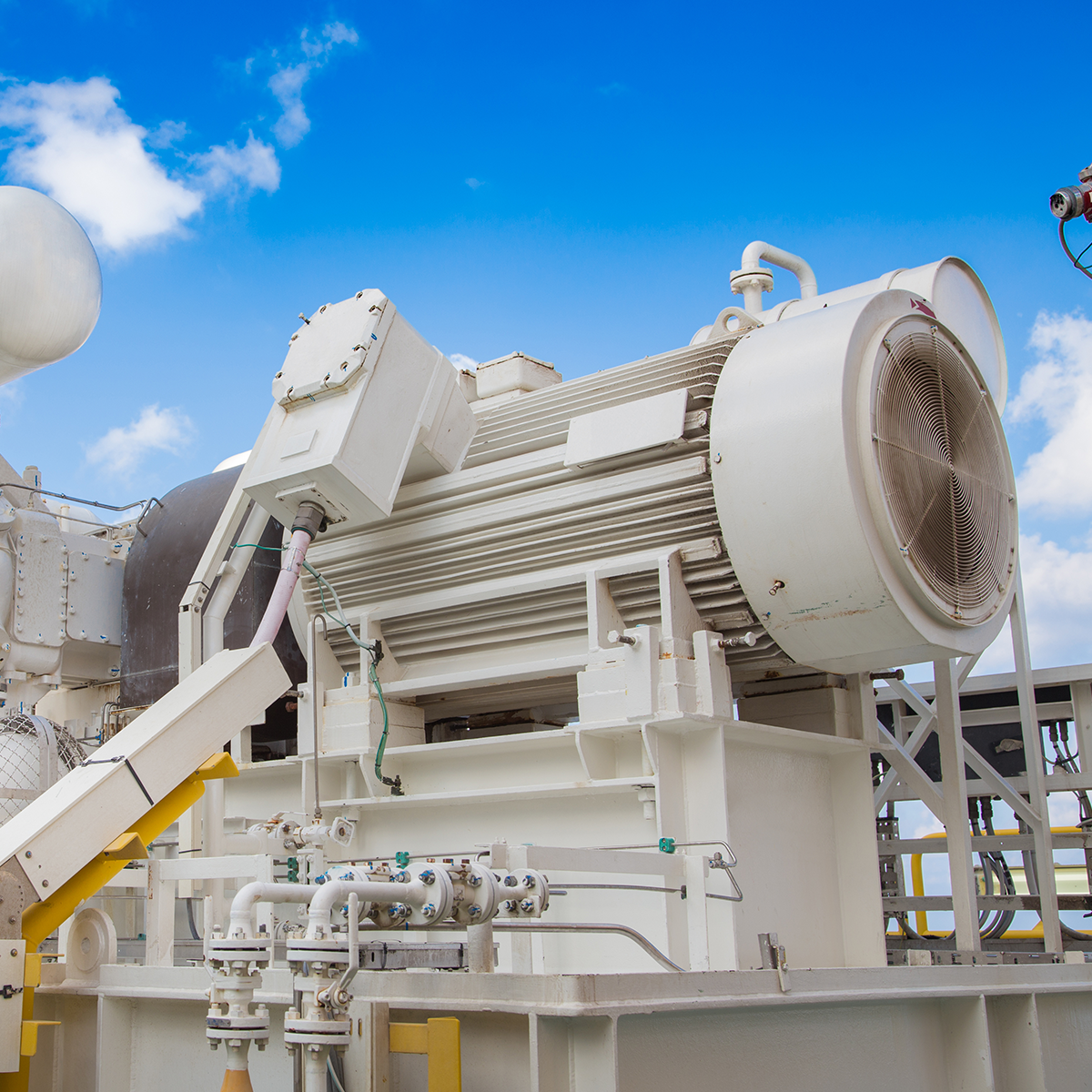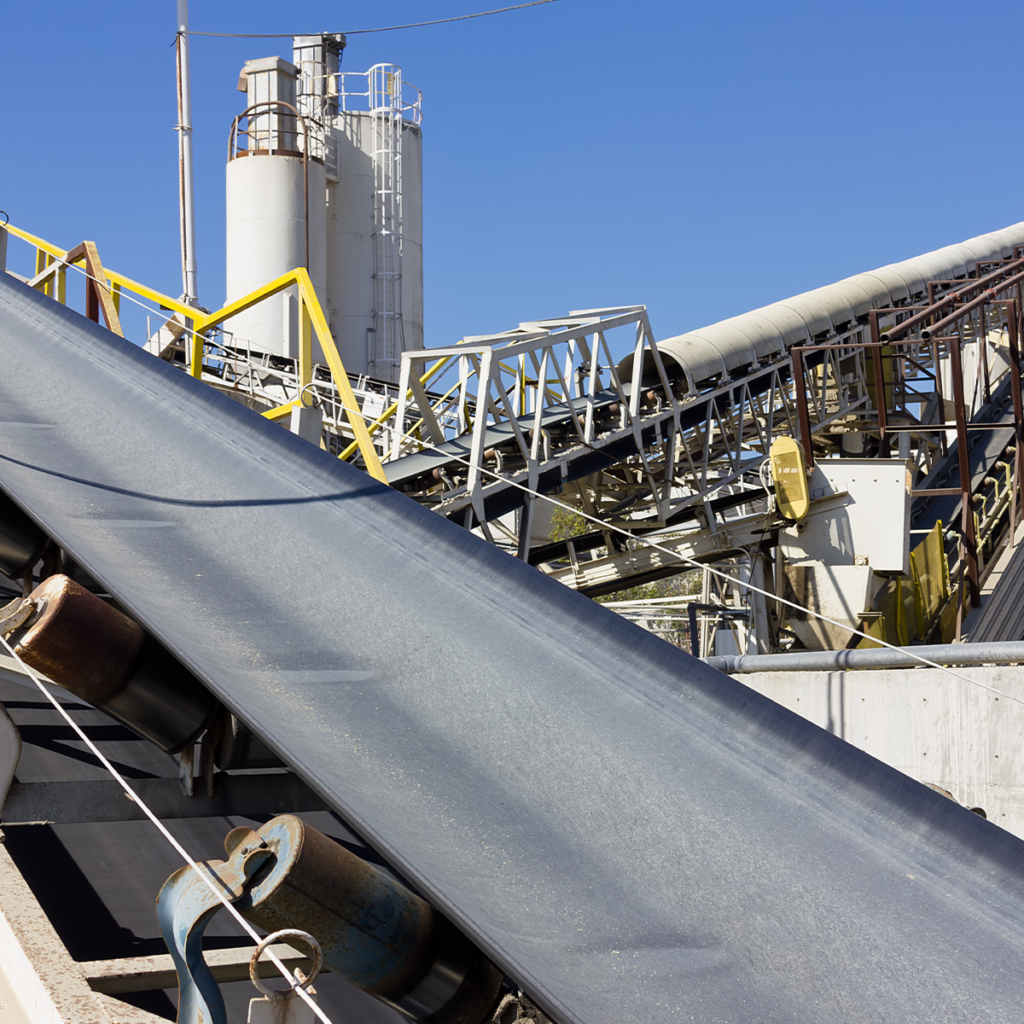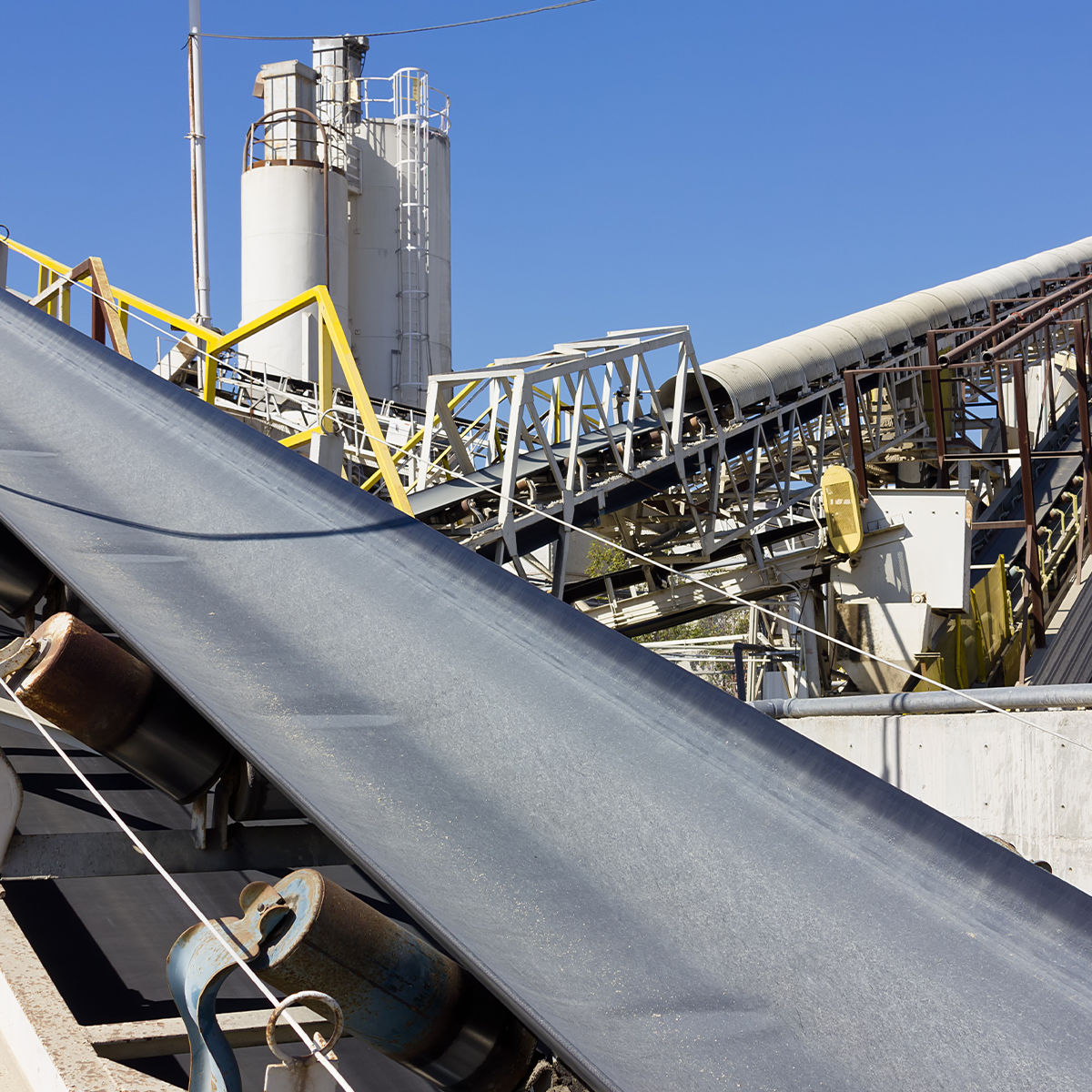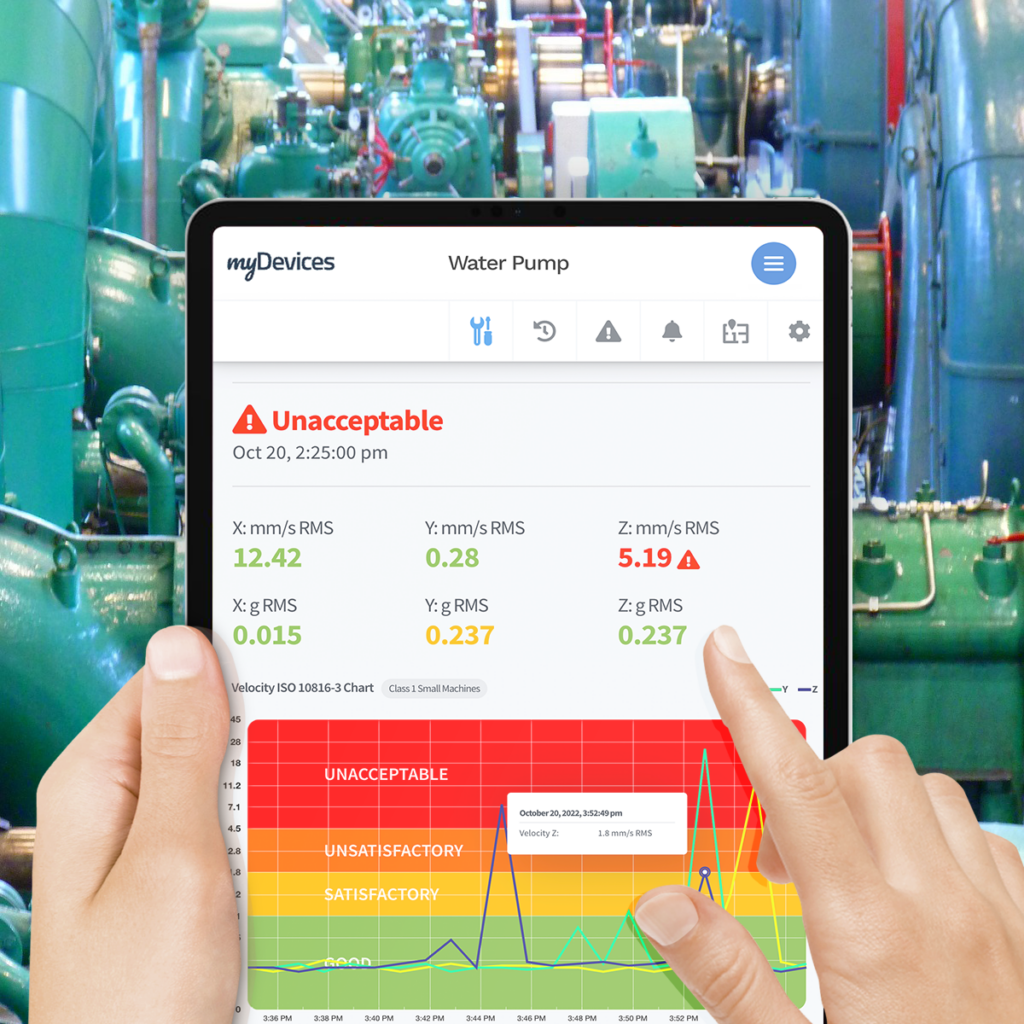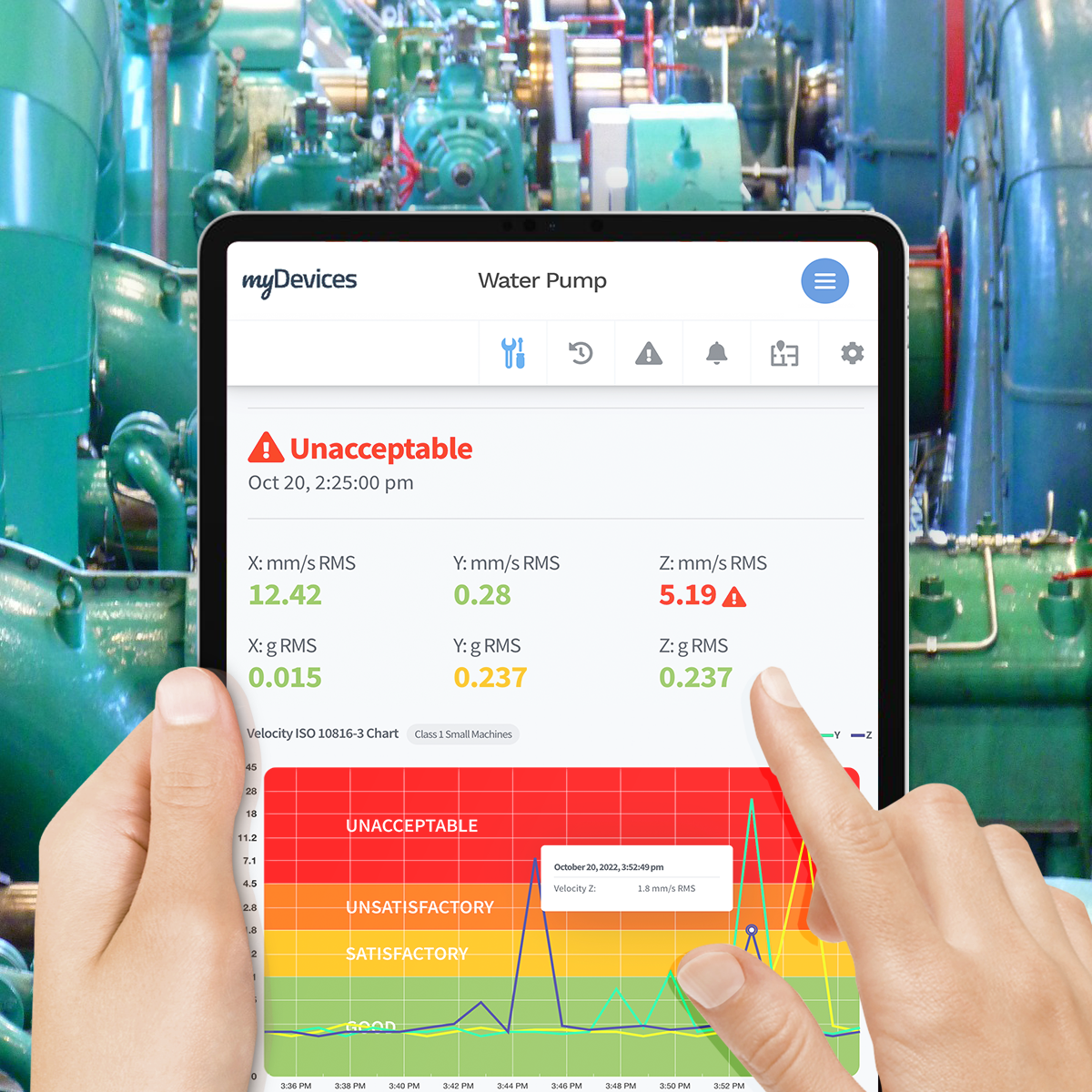 24/7 Machine Monitoring
Prevent failures, reduce downtime, and save money with powerful wireless sensors that monitor motors, compressors, pumps, and more!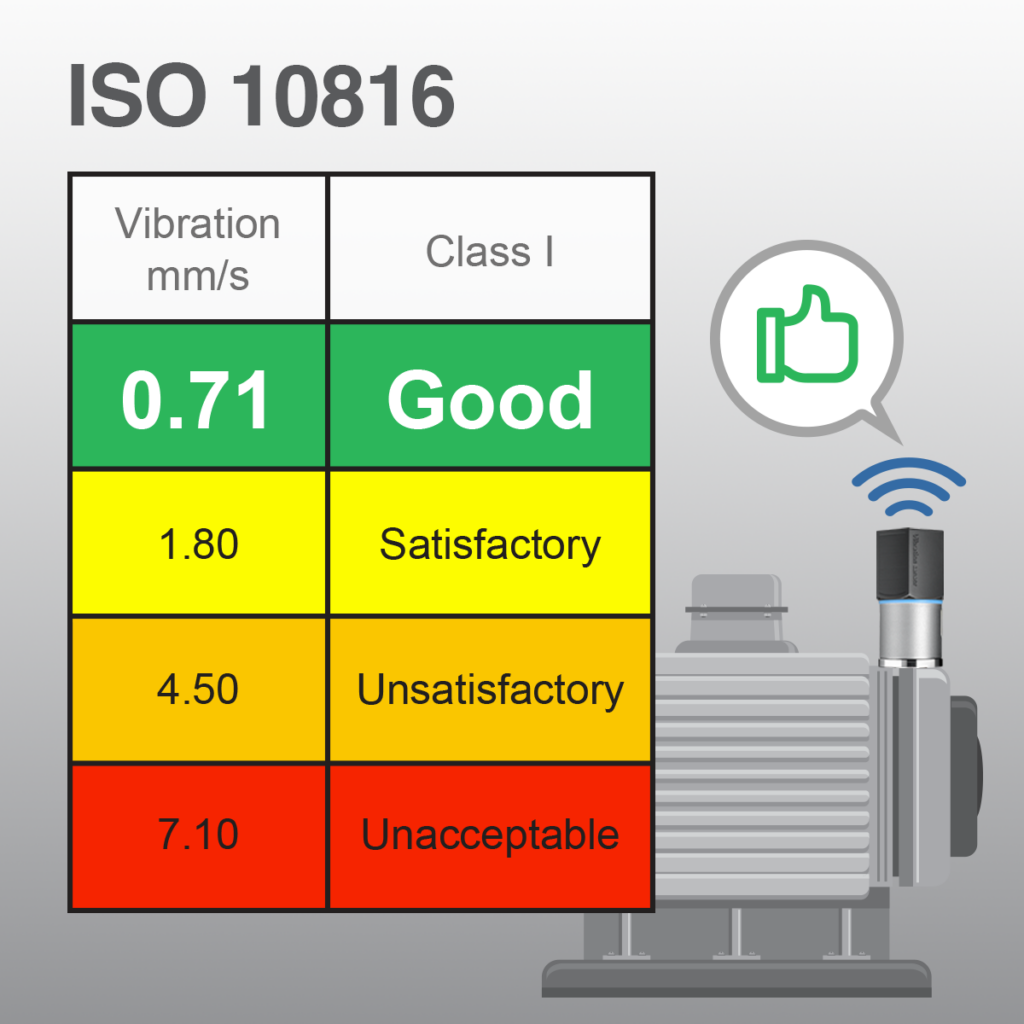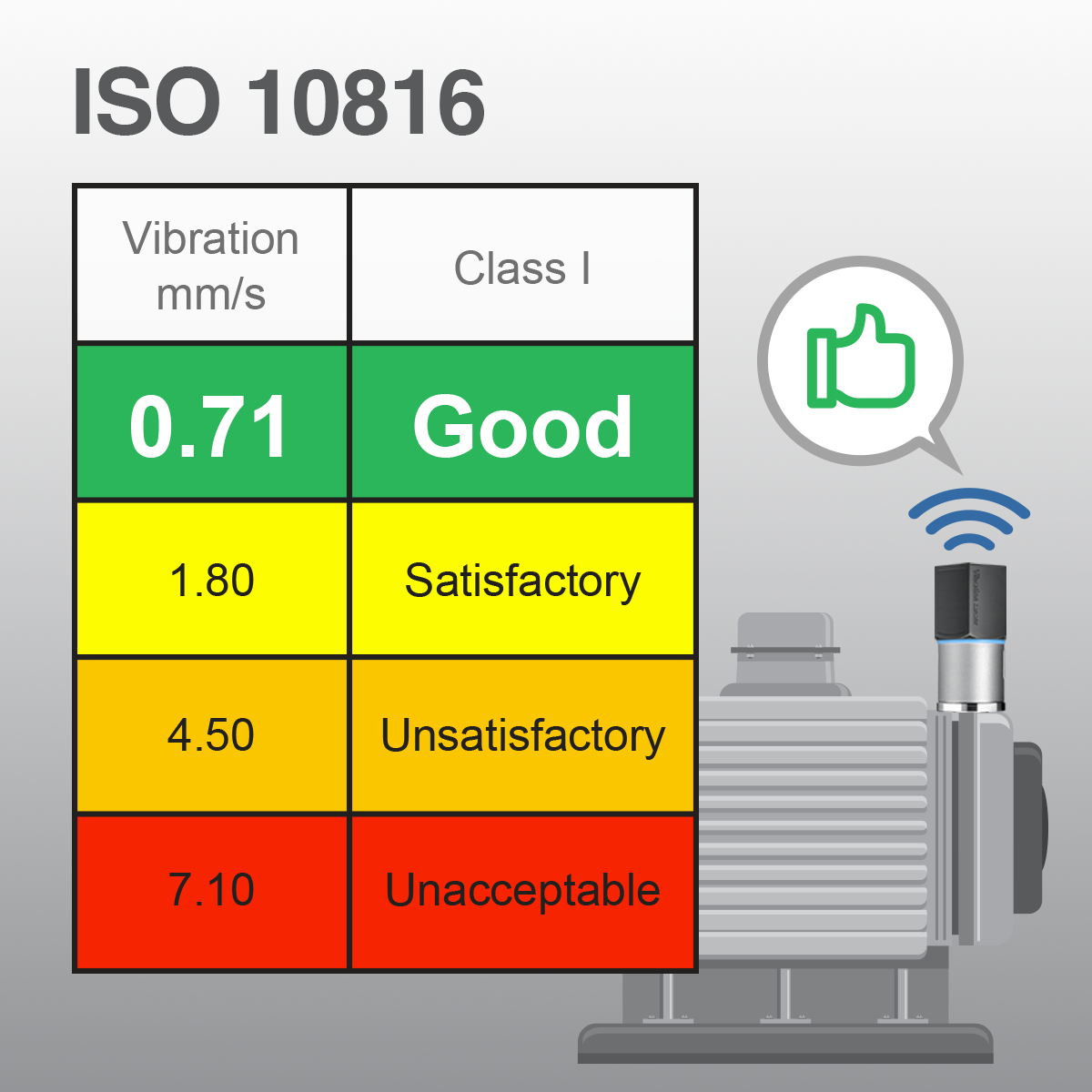 Built-In ISO 10816 Charts
Select your machine class and instantly visualize ISO 10816 compliant data on a pre-built chart with predefined ranges from "Good" to "Unacceptable" for an immediate diagnosis to plan preventive maintenance for unwanted downtimes.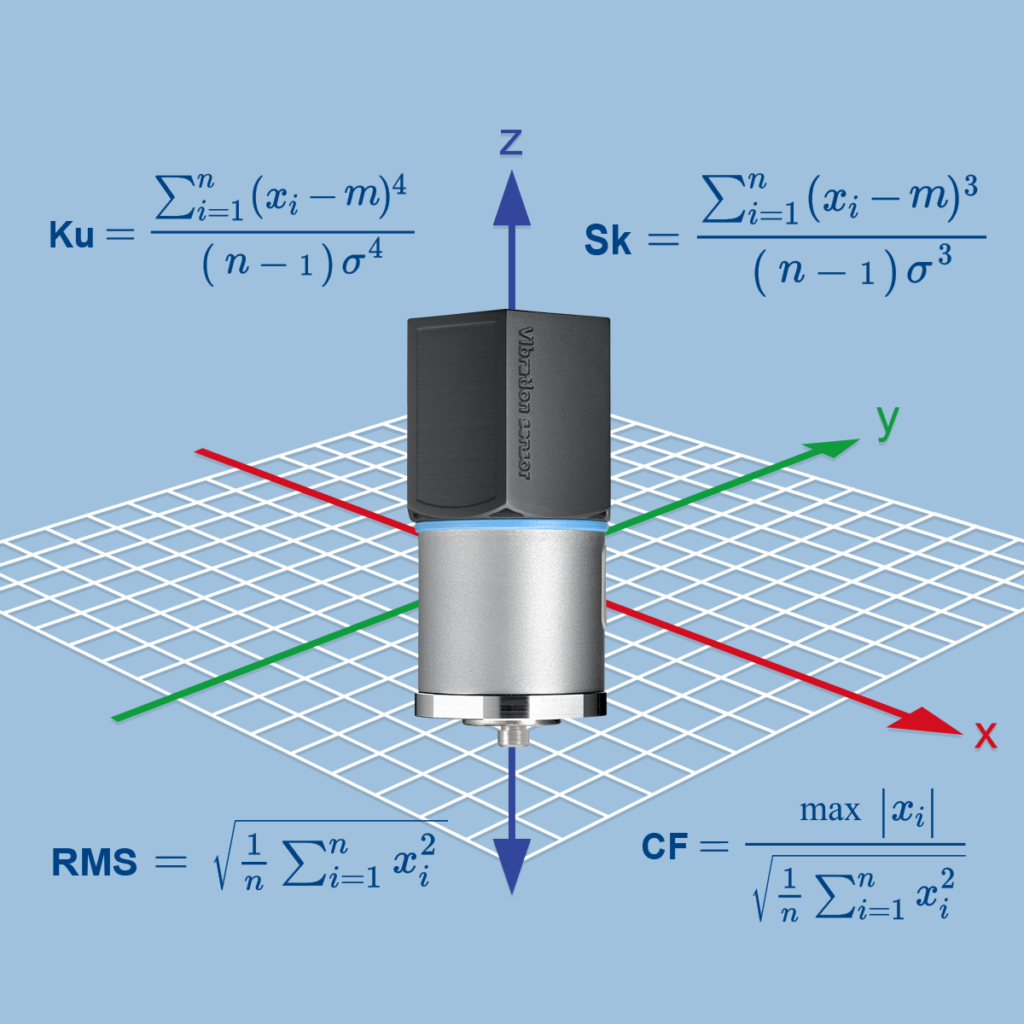 Piezoelectric Sensor Technology
By using Industry 4.0 piezoelectric technology, the solution detects sound waves, vibration, pressure and other applied forces to provide accurate predictive maintenance readings.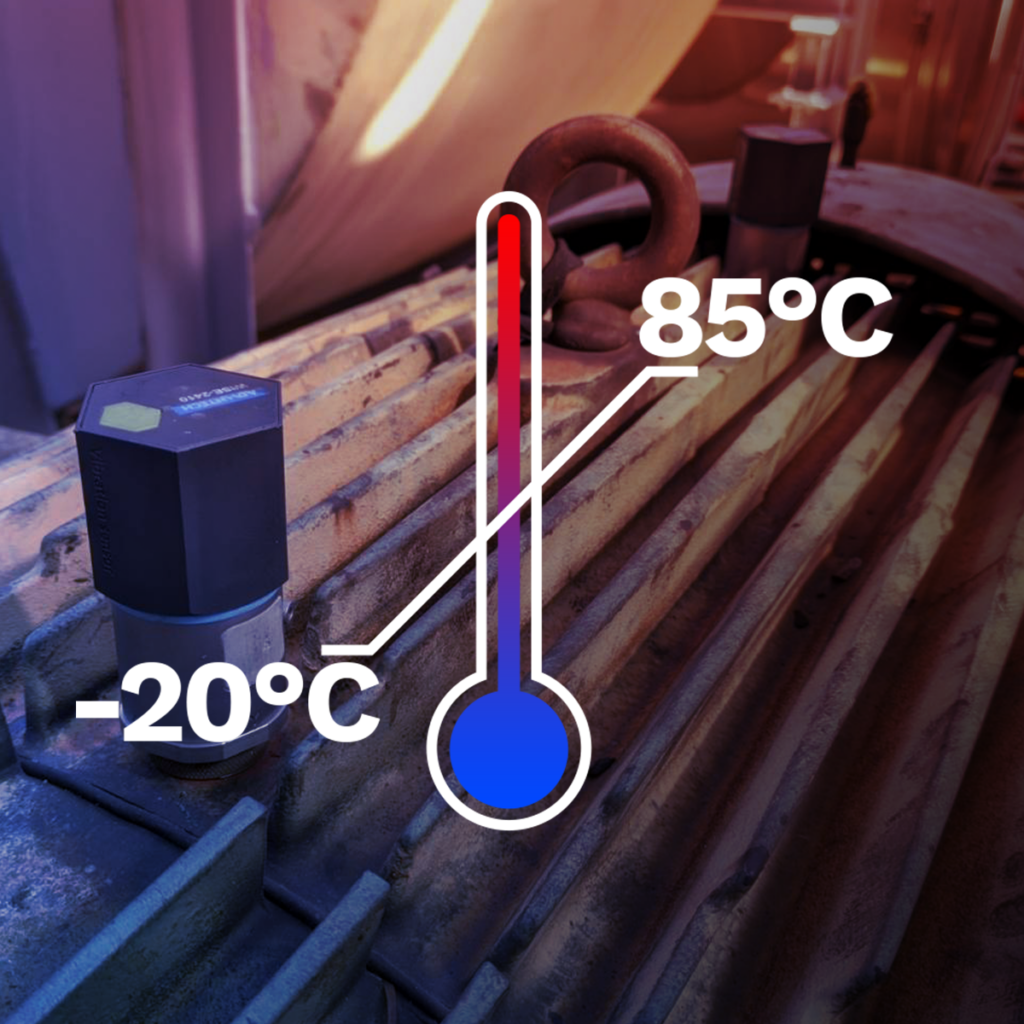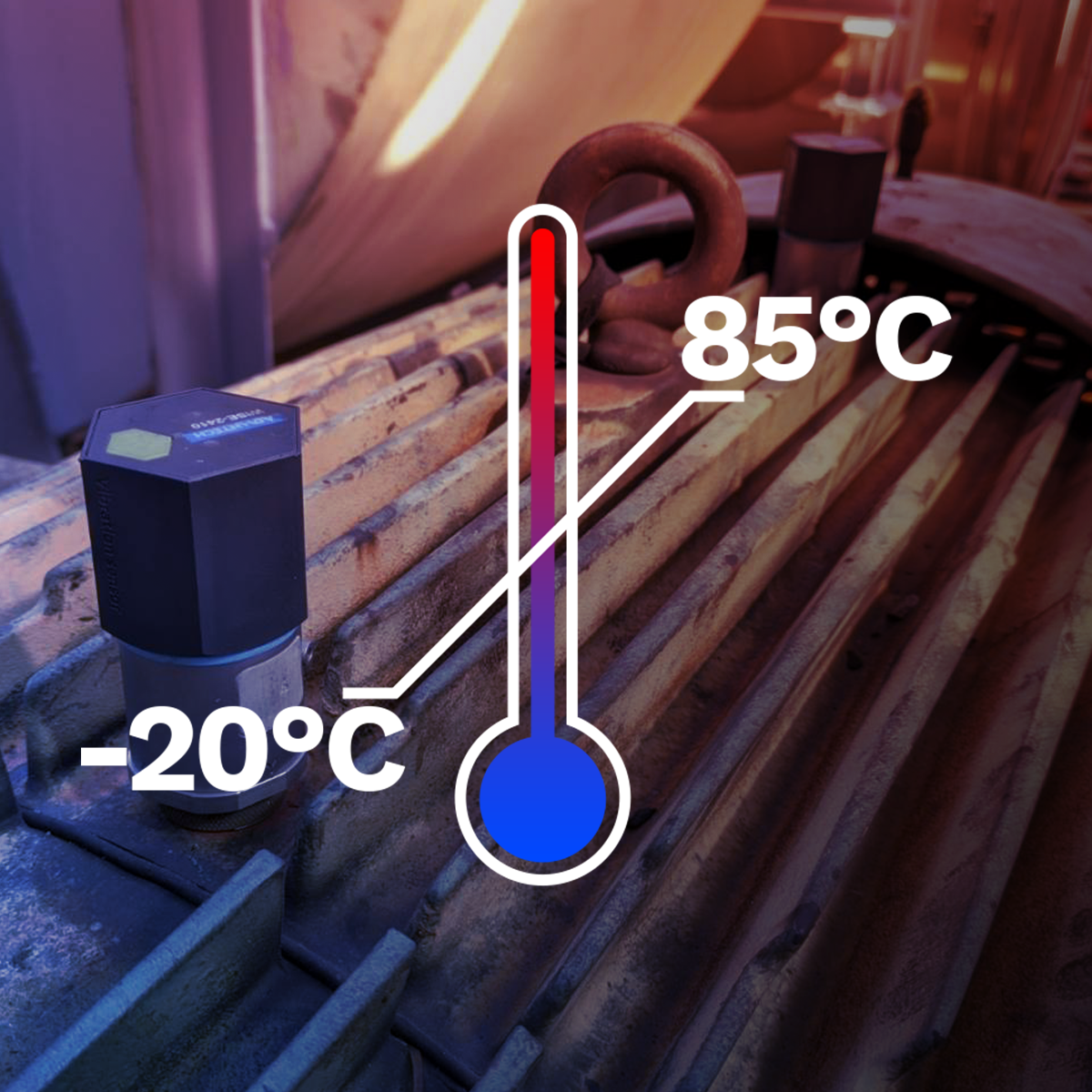 Track Machine Surface Temperature
An overheated electric motor can bring your equipment to a halt. Easily monitor equipment surface temperature to know when temperatures rise to find and fix the problem.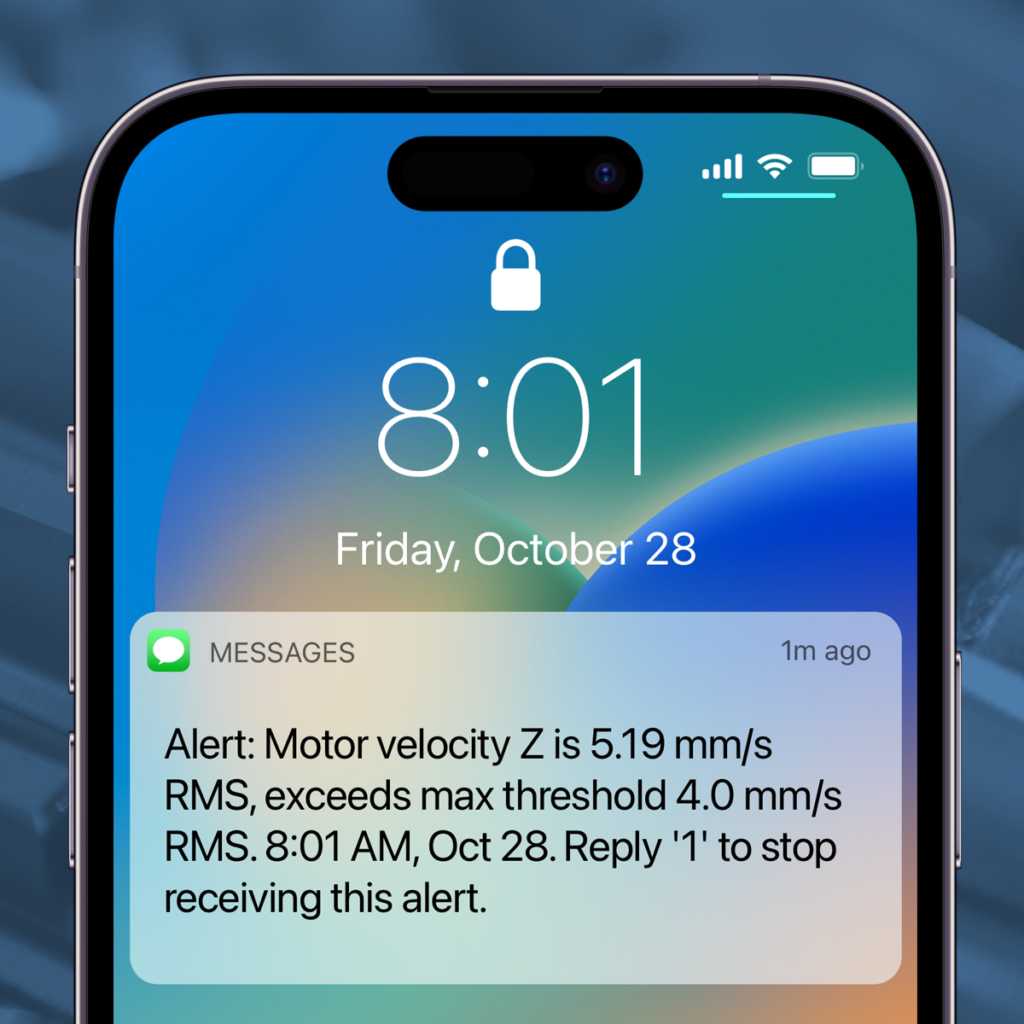 Timely Alerts
Receive SMS and email alerts when machine status levels fall under an unacceptable range or if machines overheat. Timely notifications can save you thousands of dollars in repairs and downtime.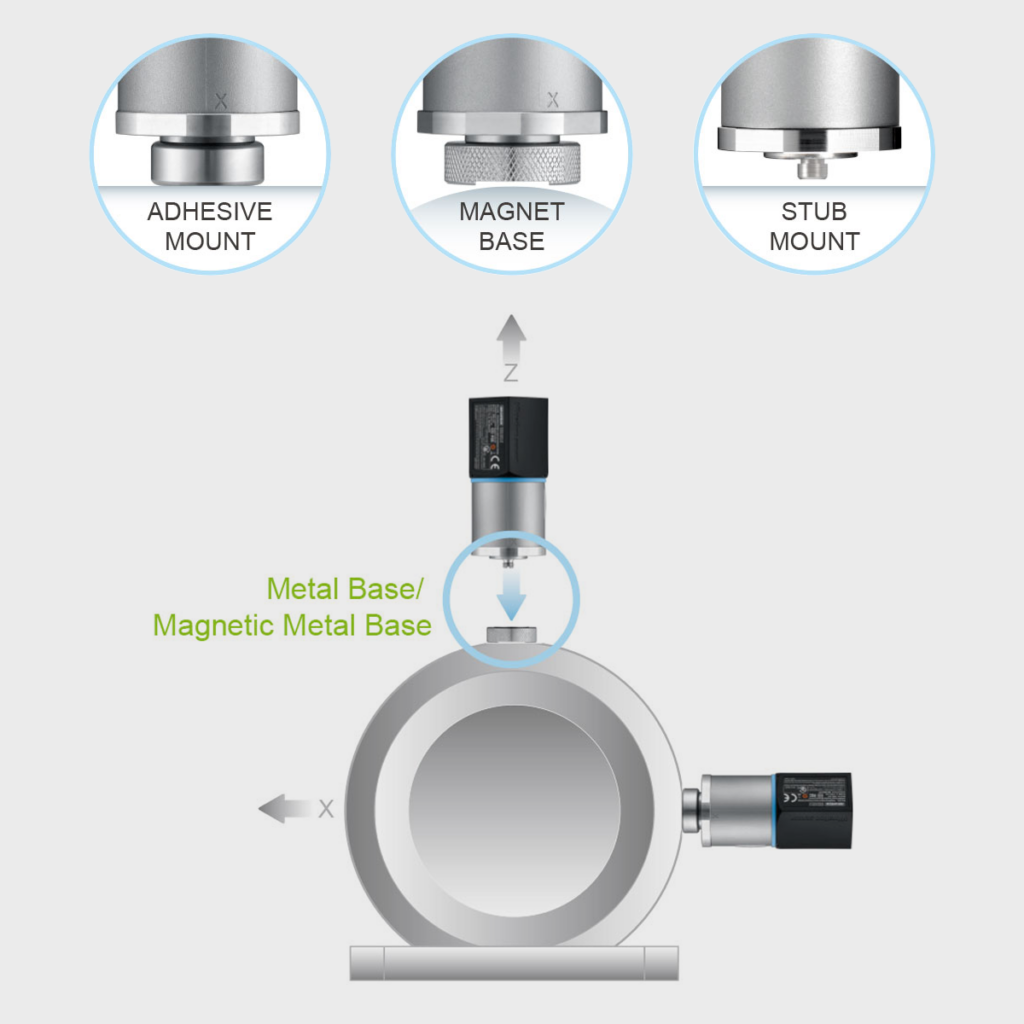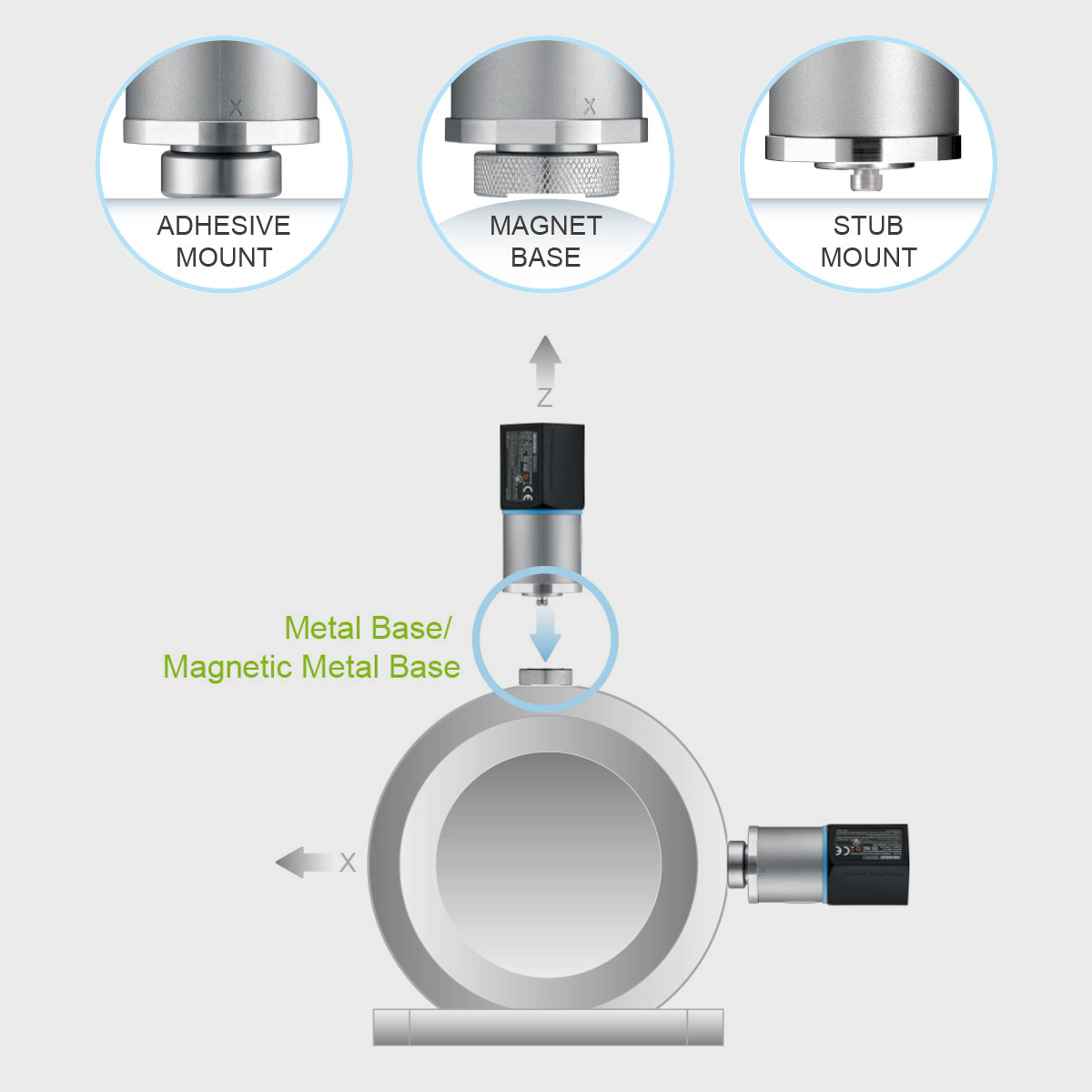 Easy Installation
You can easily mount the wireless sensor using the included stud mount or upgrade to the magnetic base for an even quicker installation.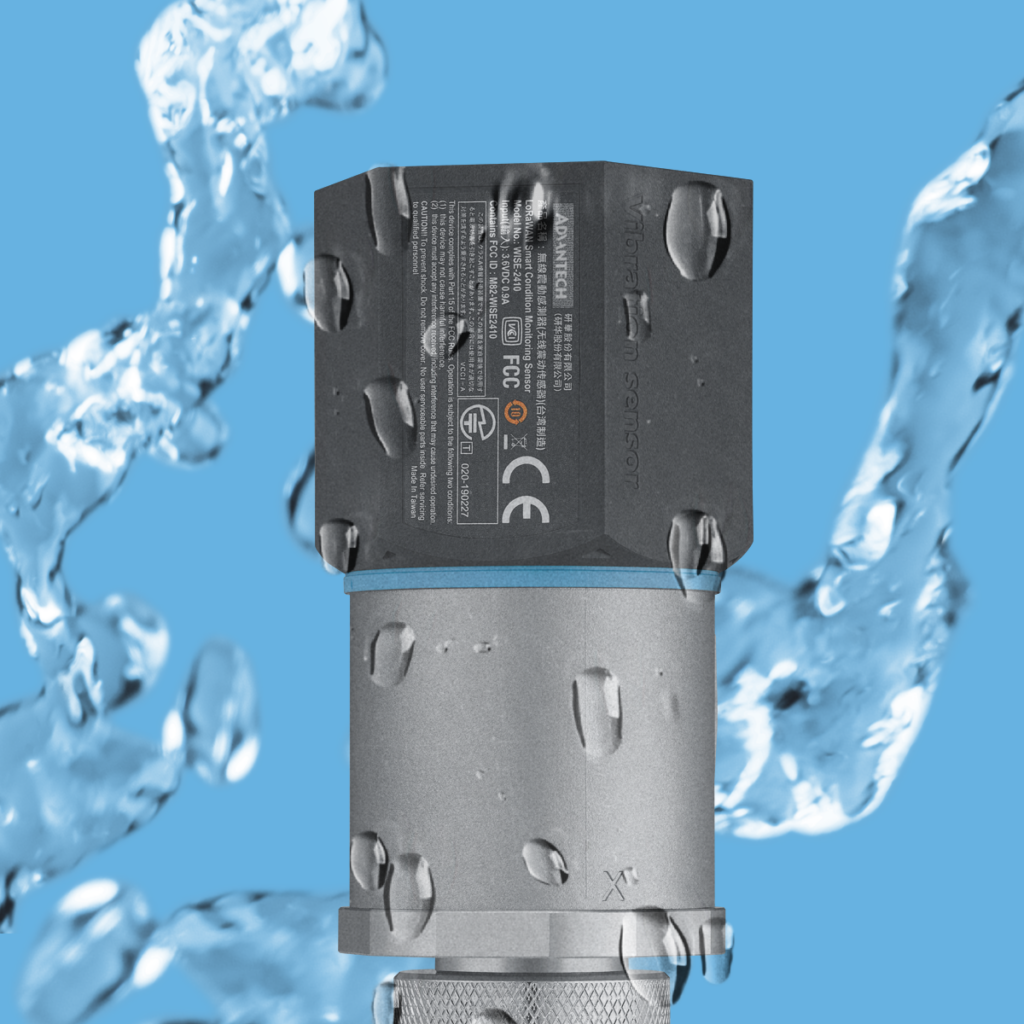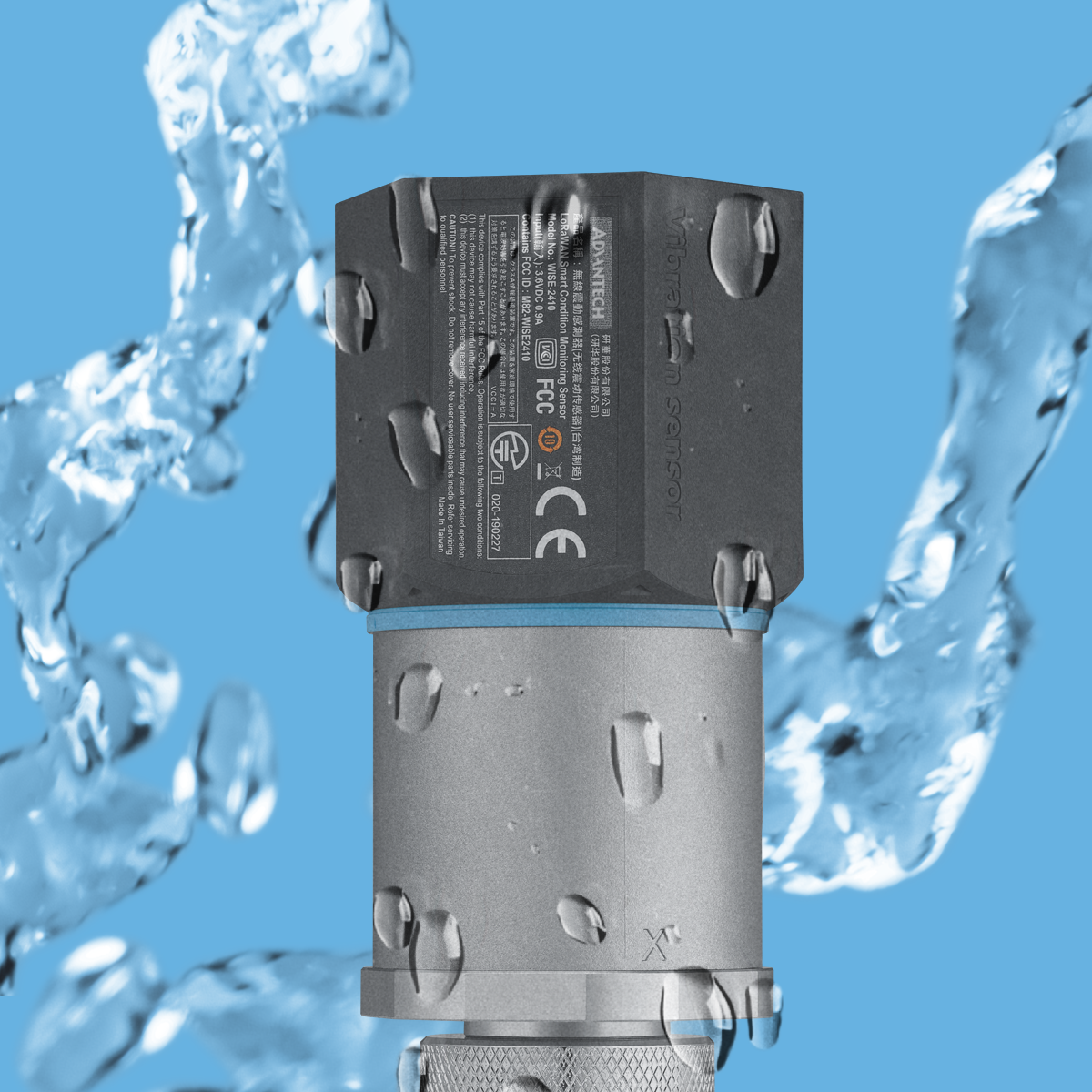 IP-66 Protection Withstands Harsh Environment
The sensor can withstand wide-temperature ranges from -20 °C to 85 °C and has an IP-66 rating protection design for use in harsh industrial environments.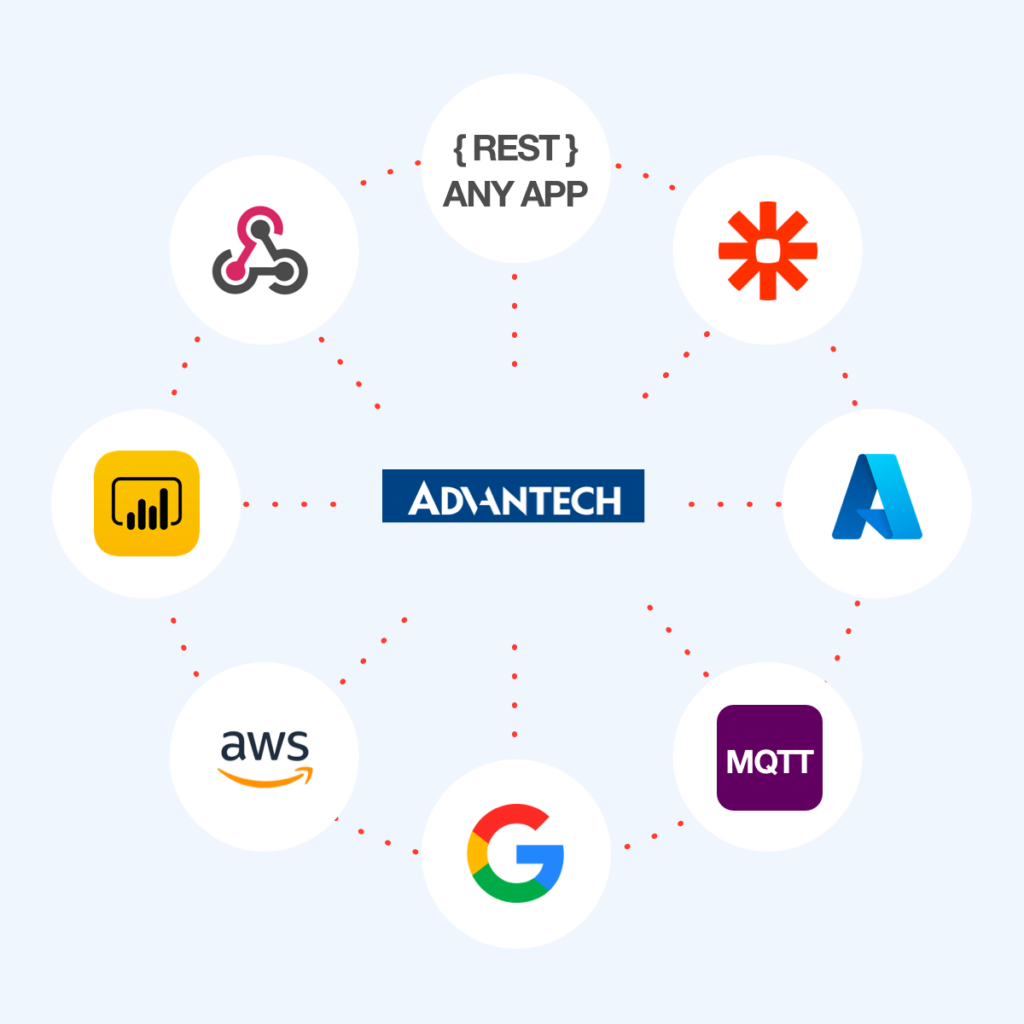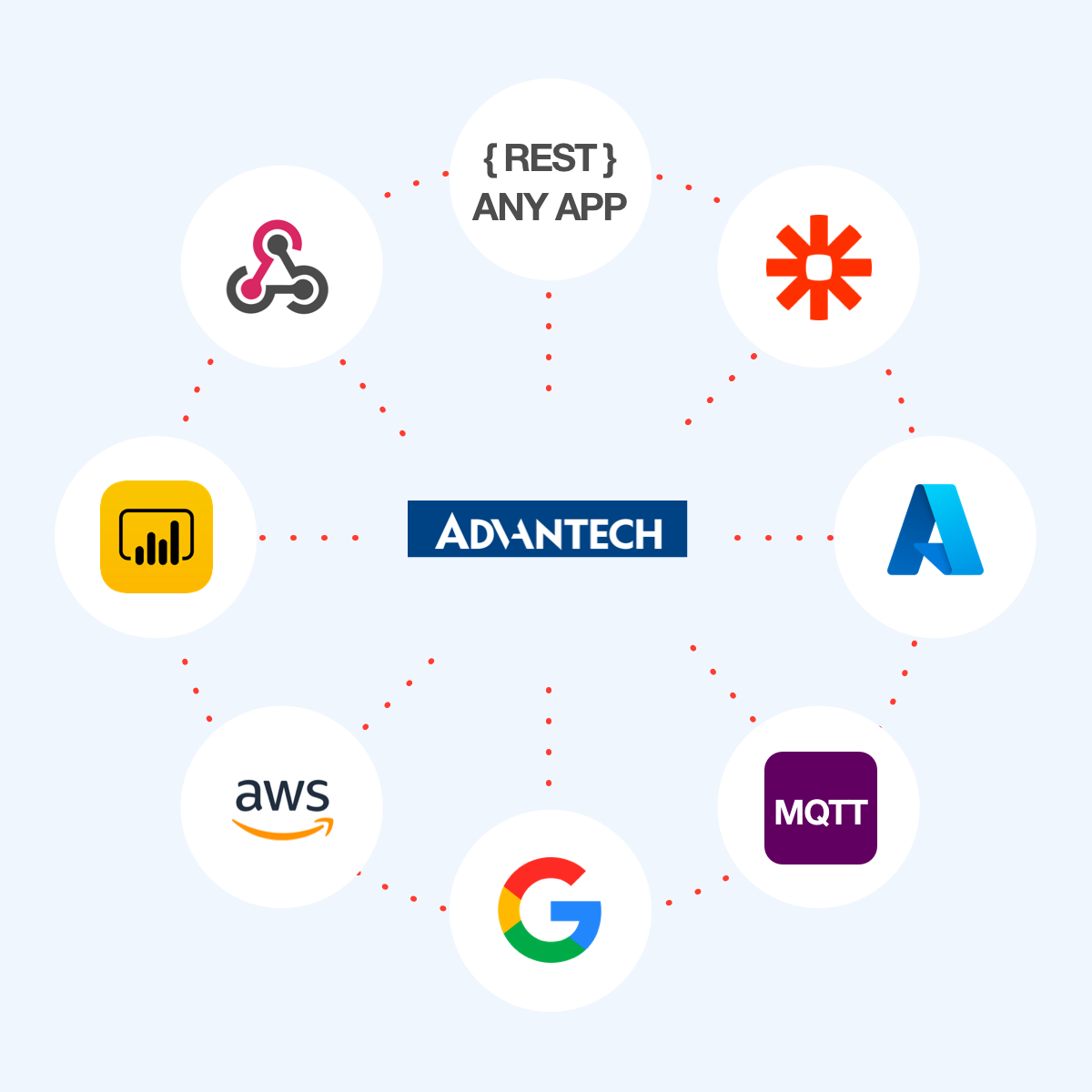 Instantly Connect to Any App or Platform
When your machine monitoring is up and running you can seamlessly connect data to existing work-order systems, business intelligence tools or any 3rd party app or platform.
How it works
Plug and Play Predictive Maintenance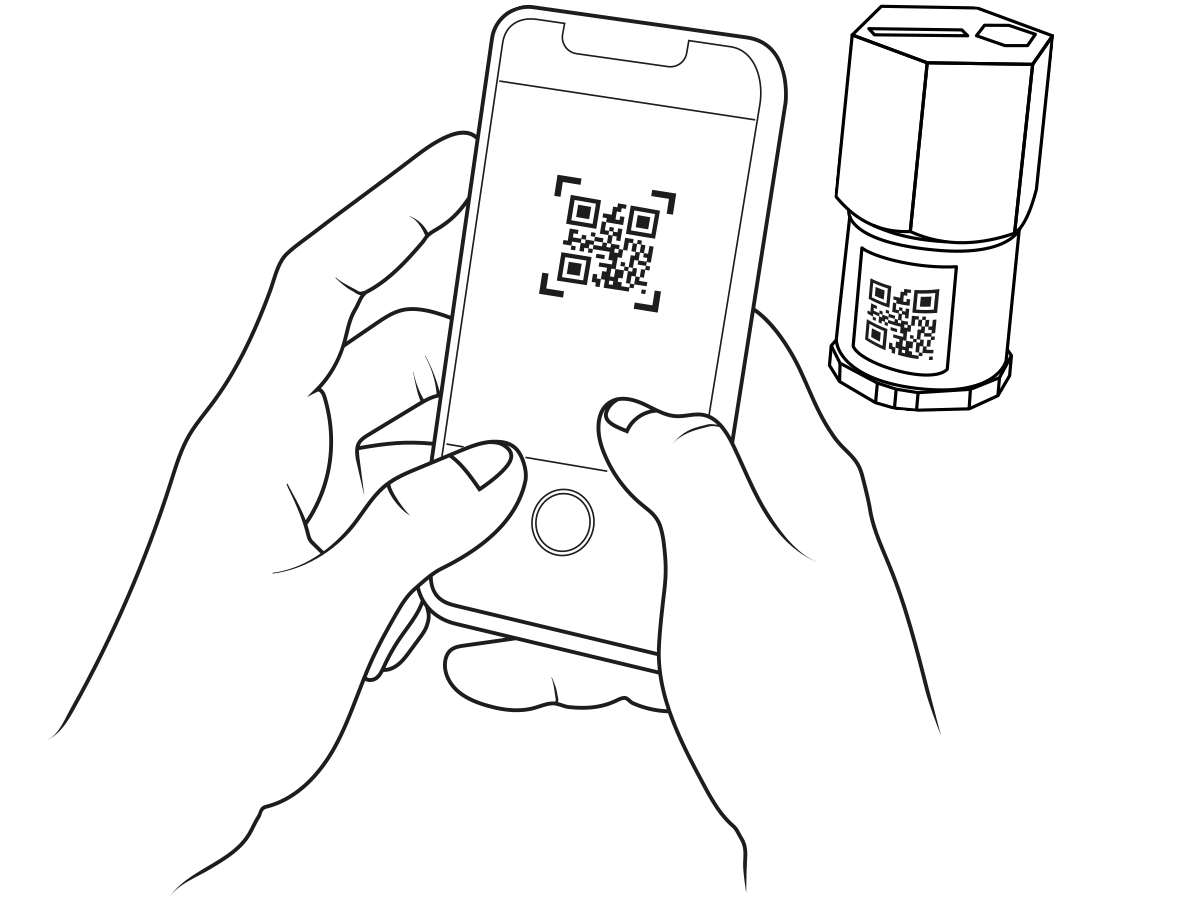 Scan the QR code to onboard your device

Mount the sensor on the machine with the stud mount or magnetically

Remotely monitor machine health right from the mobile or web app
Product Specifications
| General | |
| --- | --- |
| Power Input | 3.6V AA Battery *2pcs (Not included) |
| Battery Life | 2 years (once per hour data update interval time) |
| LED Indicator | Power, Tx |
| Configuration | Interface Micro-B USB |
| IP Class | IP66 |
| Mounting | Stud mount, Mounting pad and Adhesives |
| Dimension | (H x D) 84.7 x 48.3 mm |
| Certification | CE (RED), FCC, NCC, TELEC, VCCI, BSMI, RCM, ANATEL |
| Environment | |
| --- | --- |
| Operating Temperature | -20°C ~ 80°C (Battery powered) |
| Operating Humidity | 10% ~ 95% RH |
| Storage Temperature | -25°C ~ 90°C |
| Storage Humidity | 5% ~ 95% RH |
| 3-Axis Accelerometer Sensor | |
| --- | --- |
| Axis | X-Y-Z |
| Frequency Range | 10~1000Hz |
| Amplitude Range | ±16g |
| Statistical Time-Domain | Velocity RMS, Acceleration (RMS & peak), Displacement, Kurtosis, Crest factor, Skewness, Standard deviation |
| Output Data Rate | 6600Hz |
| Resolution | 10 bit (all g range) |
| Accuracy (FC =100Hz) | Under 5% |
| Noise (MAX. TA = 25°C. 0g) | ±40mg |
| Nonlinearity | ±0.5 % |
| Cross-Axis Sensitivity | ±1 % |
| Sensitivity Change Due to Temperature | ±0.02 %/°C |
| Temperature Sensor | |
| --- | --- |
| Measurement Range | -20°C ~ 120°C |
| Accuracy (TA = 27°C, Directly contact with heat source (Metal Base of WISE-2410) | -2°C with 85°C |
Dimensions
Unit mm


Mounting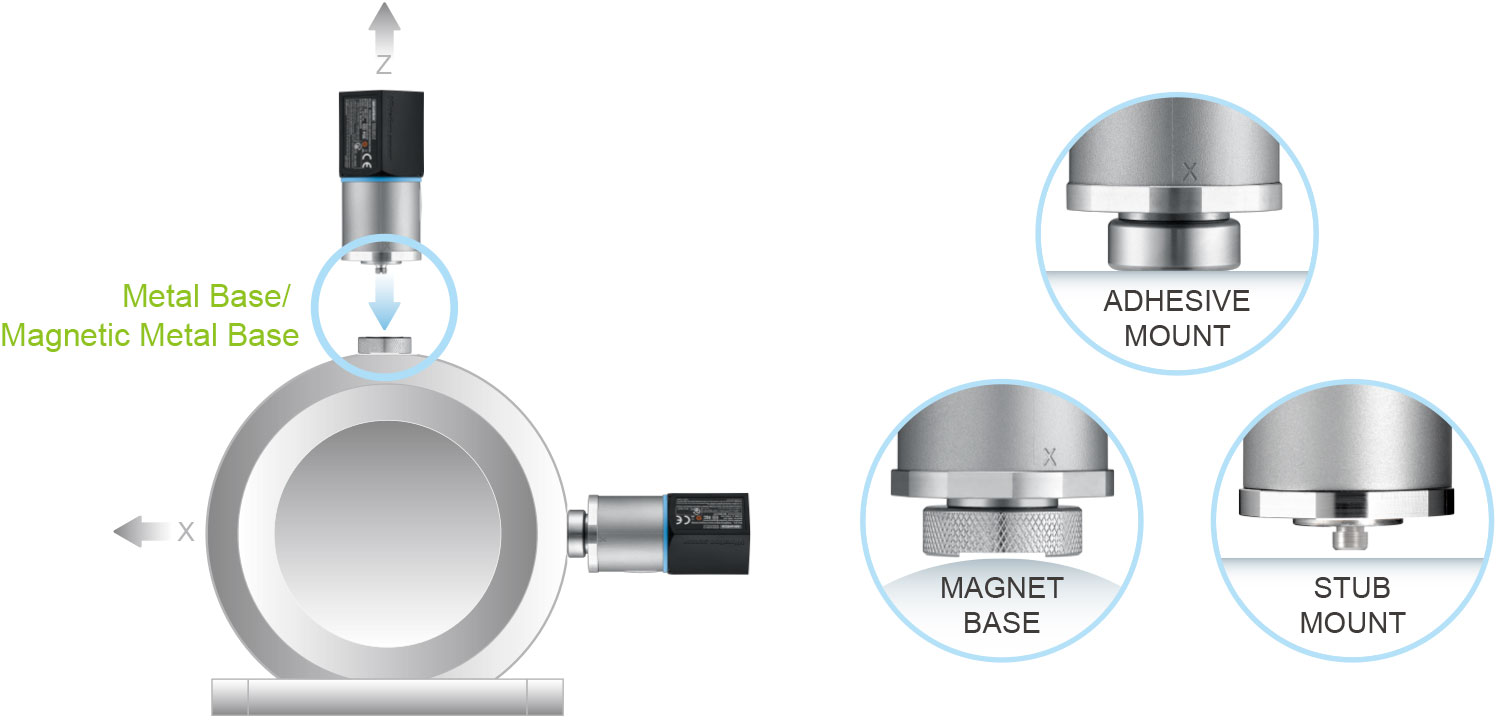 Inside the box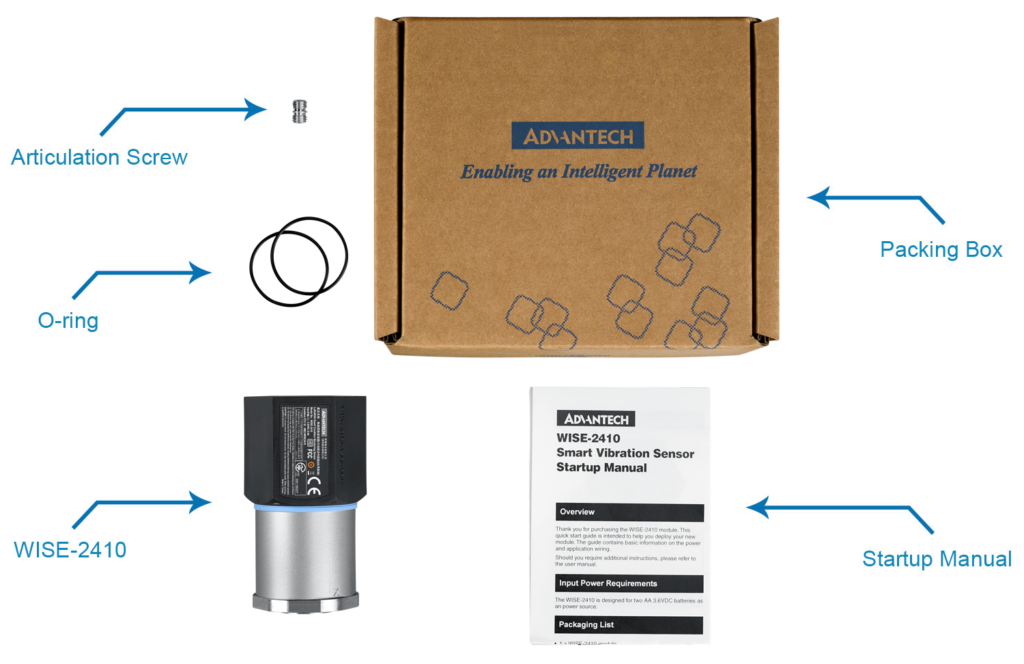 Questions & Answers
Are there volume discounts available?
Absolutely, per-device subscription prices decrease as your deployments begin to increase in volume. Please schedule a call with our sales team to discuss your specific requirements to get a customized quote.
Can I white-label the app?
Yes, we can white-label our app and deploy it on a private domain for you. You'll receive both a web-based and a mobile-based application with your logo and colors, running on your own private realm. Contact sales for more information.
Is there a paid plan associated with this solution?
myDevices offers a free POC plan that supports up to 5 connected devices. For more information on available plans, visit our plans and pricing page.
Can I upgrade or change my monthly plan after ordering?
Yes, you may upgrade to one of our commercial plans at any time if your volumes increase or you simply need access to added support and features.
Is there a month-to-month contract?
If you do upgrade to a paid plan, no contract is required. However, your account will be charged automatically monthly.  You may cancel at any time without any penalties.
Does the app indicate the current battery life of the devices?
Yes, you will see battery life as well as signal strength. You can also set SMS and/or email alerts based on battery and signal levels.
Can I track from my PC?
Yes, the tracking application works across all devices (mobile, tablet, and desktop).
Does this work on Android?
Yes, it works across all platforms on any operating system.
Can I add more than one device to the same app?
Yes, you may add as many devices onto one account as you need.
Do you have an open API, and can I connect data to my own platform?
Deploy Vibration Monitoring
Talk to our team of experts to help you deploy mechanical vibration monitoring solutions.